// Established in 2010, Perth Angels has invested $3M in 20 startups, and wants to do more…
Coming up with a 'world changing business idea' that offers society something new and different is exciting, but far from easy.
For some, ideas may fizzle out quickly, but for others it becomes an all-consuming (and often sleep-depriving) process.
It takes much more than a good idea to build a successful business. Often, financial backing may be needed, as well as guidance from the right people at the right time.
This is where Perth Angels – a local network of private investors – aim to provide help.
Angel investors
Celebrating its tenth anniversary this year, Perth Angels is a for-purpose Not For Profit (NFP). The organisation aims to provide a place for aspiring entrepreneurs to present their ideas to investors.
The organisation's screening committee runs face-to-face and Zoom sessions inviting startup founders who are investment ready (or close to it) to present their ideas. They are then presented with feedback to:
Understand the problem being solved, and seek market validation.
Refine a Minimal Viable Product (MVP).
Understand the development stage, and the size of the market/ opportunity.
Explore investment/equity/valuation/allocation.
Develop realistic execution plans.
Understand their exit options.
Equipped with this, startup founders should have the knowledge to pitch their ideas.
Following deal screening process, three candidates are invited to present their companies at a Perth Angels' Pitch Night in front of potential angel investors.
There are usually four of these a year. The most recent of these – their 40th – took place a couple of weeks' ago at the Subiaco Arts Centre, where two local startups Digii Social and PackaPill, as well as a NSW-based pet startup, pitched their businesses.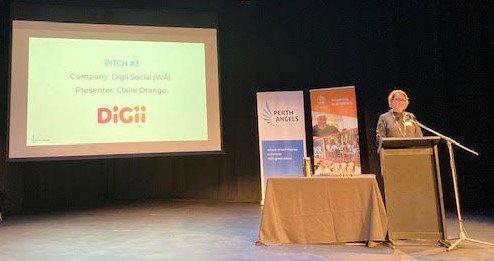 Success stories
Last year, The Volte, the WA-based peer-to-peer fashion lending marketplace, closed an oversubscribed $700,000 seed round from a consortium of angel investors.
Co-founder Kym Atkins said the investment and support from angel investors set them up for continued growth and helped solidify their position in the market.
"Partnering with the right investors is very important to us, as each investor brings a diverse range of skills, connections and strong mentorship to help us steer the company in the right direction", Ms Atkins said.
The Volte has since seen a 400% growth in revenue, with the platform now boasting a retail value of over $10M, with more than 100,000 active users per month and over 15,000 listings.
Formalytics is another example of a Perth-based startup who, backed by angel investors, has seen impressive growth.
The company developed technology from the ground up that utilises computer vision and augmented reality (AR) which turns any ball into a smart ball through a mobile device.
Today, they field a world-class team of former venture capitalists, research scientists (Harvard and MIT) and software engineers (ex-Google, IBM) spread across Australia, the US and UK.
Acknowledgement
Last week, Perth Angels co-founder and former Chair Greg Riebe was acknowledged as WA's Pearcey Entrepreneur of the Year at the Lateral Incite Honorary Awards 2020, for his 20+ year work investing in and developing local tech businesses.
~~
For more information on Perth Angels, visit their website at https://www.perthangels.com/
Applications for funding are available at https://www.perthangels.com/entrepreneurs/
MAIN IMAGE: Perth Angels Annual Breakfast Event, 2020. From the Perth Angels website.