// The headline concerns of finance and health continue to dominate consumer minds, although job and food security concerns are surprisingly low.
The latest data from UNO Group suggests consumers in Australia have major concerns – understandably – around finances (48%) and health (39%).
Although there are inextricable links between jobs, job security and finance, it's surprising to learn that there is a large delta between concern about financial, and what creates money, jobs.
Financial
An overwhelming majority of Australians are concerned about the financial side of things, with 95% of respondents expressing at least some concern, on a six point scale.
Those expressing more than a little concern comes in at 82%.
No data was available to make the connection between finance and jobs/job security.
Many Australians are also worried about how the pandemic will affect Australian banks, with a fifty-fifty split 'concerned / not concerned'.
The majority (44%) of Australians worried about the banking situation are also unsure of what action they need to take.
The remaining 6% are considering drastic action such as withdrawal of savings (3%), moving savings out of neobanks (2%) and moving to a bigger bank (1%).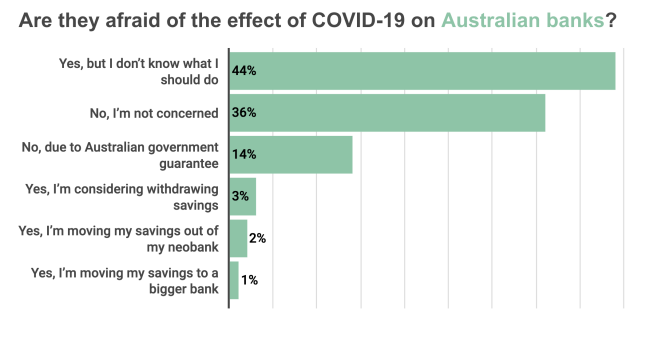 Though the data does not explain the rationale behind the decision, reasons behind the low numbers of withdrawals and switches to big banks could include:
Lessons learned from previous financial events such as the GFC, leaving people more wary of causing a run on banks, or believing in the mantra of a bank being "too big to fail";
Many people are already members of one of the big four banks; or,
Shock and paralysis due to the suddenness of the situation.
It's also an unusual time for neobanks. They began to take off in popularity towards the end of last year with inviting interest rates double those of the best big banks. They are now facing the very same issues as the regular banks.
Notably, only 2% of respondents chose to move their savings out of neobanks, however there is no data to determine what impact that will have on neobanking in Australia.
Online Spending
Despite the restrictions around bricks and mortar shopping, online spending as a proportion of the population has remained the same, with 52% of Australians spending about the same online as they did last month.
25% of Aussies are spending more though, with 20% doubling and 5% tripling their online spend compared to last month.
Health & Food Supply
Despite some panic buying that remains with some items, a strong majority of 67% of Australians are NOT concerned about running out of food during the COVID-19 outbreak.
How Aussies are actively protecting themselves against the virus strongly reflects government advice to social distance and maintain good hygiene; a welcome sight.
Daily Life
All of us have had to make major changes in how we go about our daily lives. UNO Group's consumer data shows 40% of Australians believe COVID-19 has had a 'major impact' on their lives and how they live.
That's in addition to the 39% who say the change has been 'noticeable but not major'.
Impacts could include things like working from home, changes to socialising and other daily necessities like grocery shopping.
Of the activities people are less likely to do in the next three months due to COVID-19, almost 50% won't be heading to community festivals.
The remainder are less likely to engage in common activities like heading out to a shopping mall (not including grocery shopping) and going to the gym.
---
Graphs and data courtesy of UNO Group.
Main image: Pixabay