In a packed eGroup meeting last night, SafetyCulture's CEO and founder Luke Anear spoke about his 15-year journey and some important learnings, mistakes and choices along the way…
Sitting in the back of a car spying on worker's comp claimants as a private investigator must give you a lot of time to think.
For one thing, Luke Anear said, don't sit in the front seat. People don't tend to look there. Always sit in the back seat.
For another, Luke wondered, why are all these people getting injured at work in the first place? Surely, there should be a way to make workplaces safer?
And so, from one job, where he managed 25 ex-policemen, came another idea, which later became the wildly successful SafetyCulture.
SafetyCulture is one of Australia's more impressive tech successes. After Atlassian (whose founders became investors) and Canva (the co-founders are good friends), SafetyCulture is up there in the pantheon.
Featuring in their own movie 'The New Hustle' (worth a view if you've not seen it), winning the OzApp Awards in Perth in 2016, and raising $60M in its latest round (valuing the company at $450M), the business is set to turn over more than $100M this year with 300 staff in 5 offices (including one each in Kansas, Manchester and Manila).
It wasn't always thus.
For the first 9 years, the business grew slowly to around $300K revenue a year as, as Luke freely admits, "no one really used our products, which was a safety training platform and then some document management systems."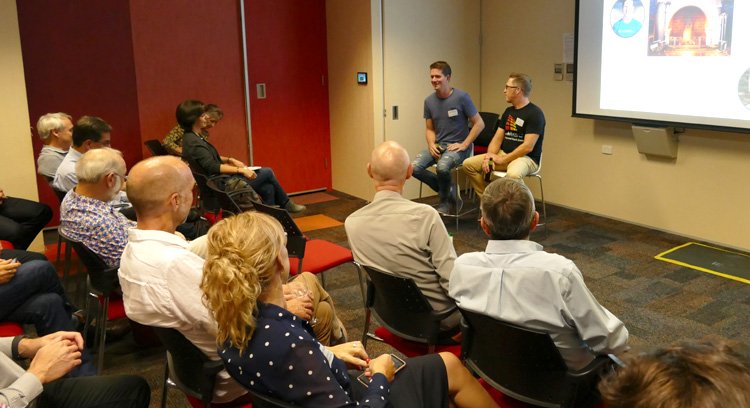 It was not until Luke, still working out of his garage in Townsville, built a risk assessment app that things started upwards. But even that was not a run away success.
"Initially, no one downloaded it, and we'd taken 3 months to build it – and then rebuild it as our initial code got wiped," said Luke, "but one customer contacted us from Melbourne so we flew down to meet him."
This gave the fledgling company a new problem to solve, and was to be the catalyst to their future success.
"After talking to this customer, we realised that multiple businesses were doing regular checks on various things. And if having checklists were good enough for pilots doing pre-flight checks, or surgeons before surgery – and they were pretty smart people – then maybe making checklists easy was going to be our thing."

Luke Anear
So in 2012 SafetyCulture released their iJSA app (job safety analysis). They were hoping to have 10,000 downloads in its first year, yet passed this mark inside 6 weeks.
VC Money
In 2013 they appeared on Channel Ten's 'The Project' and soon after that Rick Baker from Blackbird VC called. A meeting was set. By this time they were now 6 people working in the same Townsville garage and were turning over around $300K a year.
"We decided to clean up the garage a bit, and make it look a bit more impressive by putting clocks around the walls showing the times in major cities around the world," said Luke. "Sadly, during our meeting with Rick the London clock fell off the wall, and another one started to droop."
Apparently, Rick Baker did not even notice. He invested, as did Scott Farquhar (from Atlassian). A $2M round was followed by another $9M round.
"I've never really gone looking for investors," said Luke. "My advice to startups is to get traction. Once you get traction, the money will come. These days, VCs scour the country and the world for the best deals. They will travel.
"So, even over here in Perth, don't have this 'we're so isolated' mentality. It should not make any difference where you are located. What makes a difference is traction. Traction builds belief and validates your business model."
Altogether, the company has now raised $98M. iAuditor, the successor app to iJSA, is now used 450M times a year around the world.
"Your best defence is to work fast and innovate," said Luke. "Keep it simple and build users from the front line up. Building software from a compliance point of view is a bit like learning to parent by doing what the law says."
As the company has grown, they have moved into new areas such as sensors and IoT. Safety checks are no longer the company's biggest business, so the company name 'SafetyCulture' will likely change this year.
The Lone CEO
For 15 years, Luke has been the sole founder and CEO of the company, and now it is at a much larger size, he says it is important to get away, and have an outlet.
"After years of putting it off, last year I invited a 'lifestyle coach' to come in and meet me," said Luke. "I was told to 'get some other interests', which I am now doing, and it's having beneficial effects.
"I was also told that it was OK to take some money off the table, so I did," said Luke, "Not a lot, but some; and this has made decisions less emotionally charged. Not everything is riding on every decision, so I can make decisions with more of an objective eye. That's important if you want to make the best decisions."
~~
For more on SafetyCulture, visit their website.